You've never had a bar like this
Meet the wildly delicious and seriously nutritious high-protein Cereal Bar that will keep you feeling full, refueled, and ready for anything.
Click me!
You've never had a bar like this
Meet the wildly delicious and seriously nutritious high-protein Cereal Bar that will keep you feeling full, refueled, and ready for anything.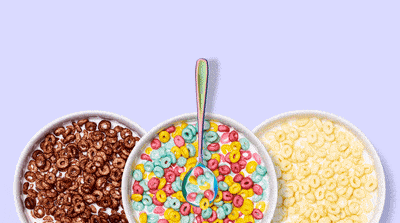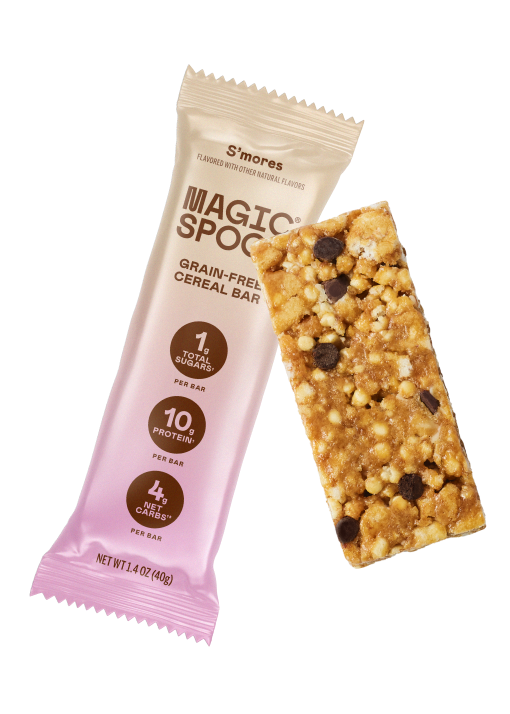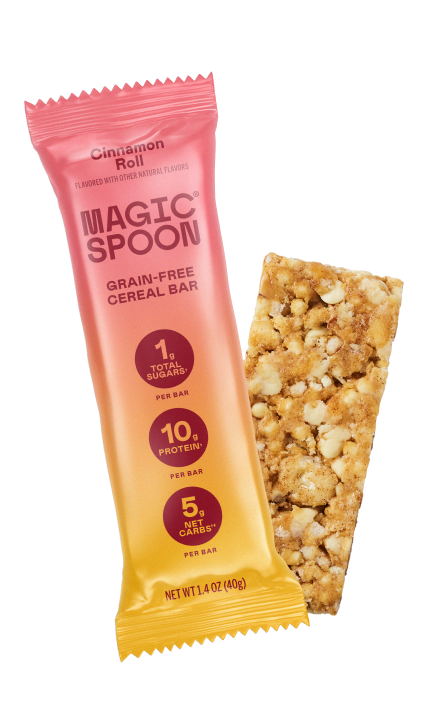 Forget what you think you know about too-sweet cereal bars and chalky protein bars. We took the serious nutrition of our bestselling cereal and turned it into a crunchy bar that's packed with flavor, so you can pack more into your day.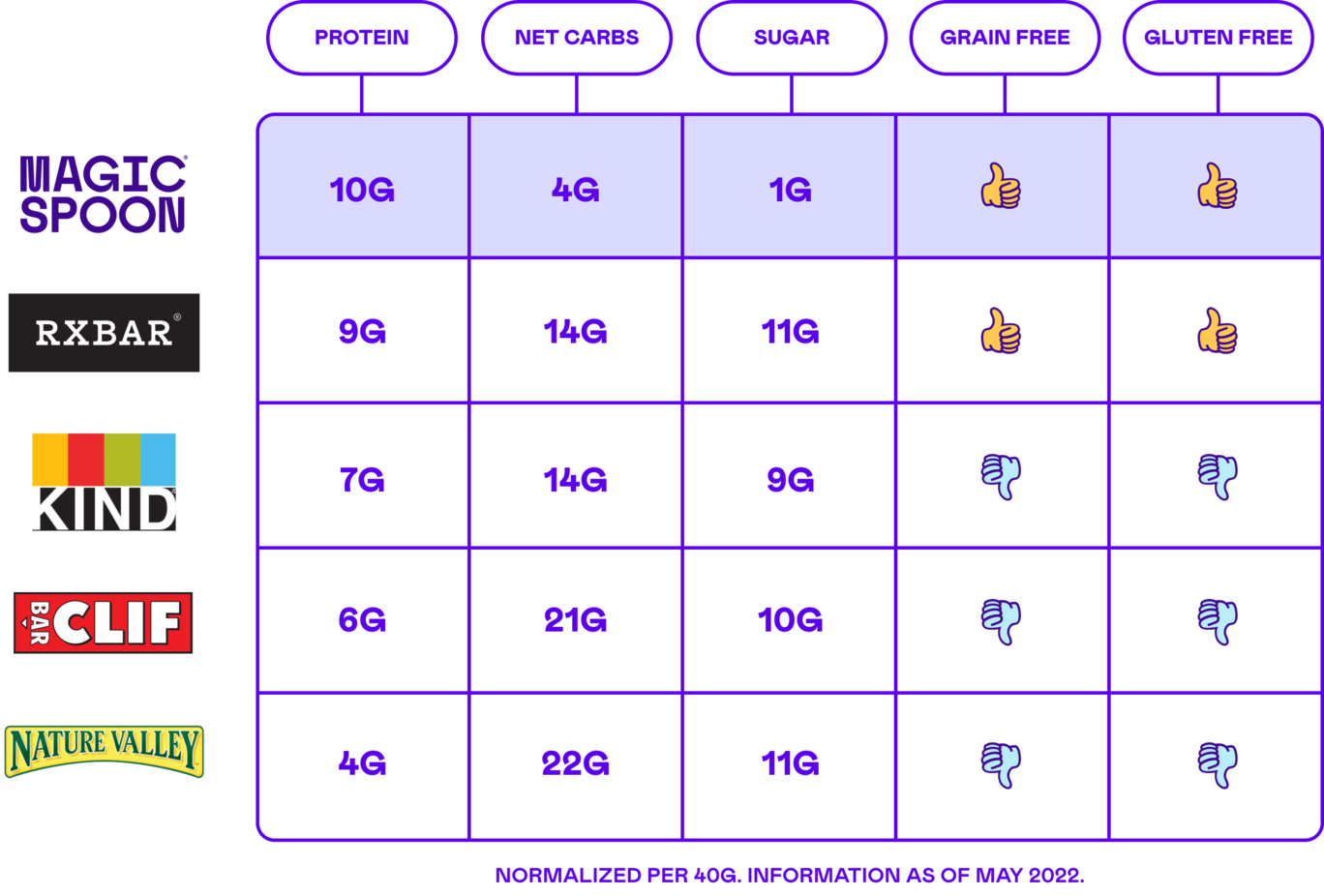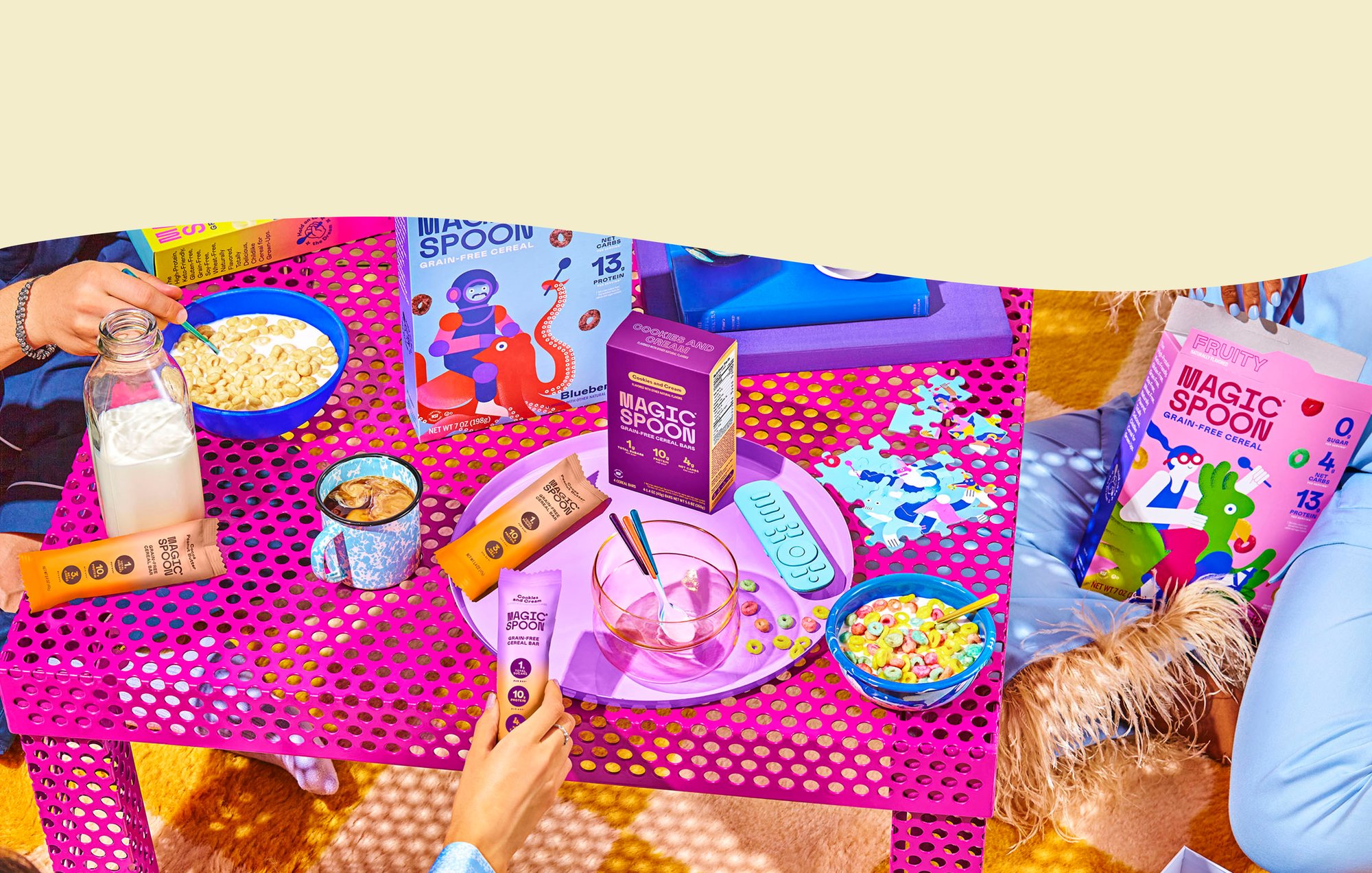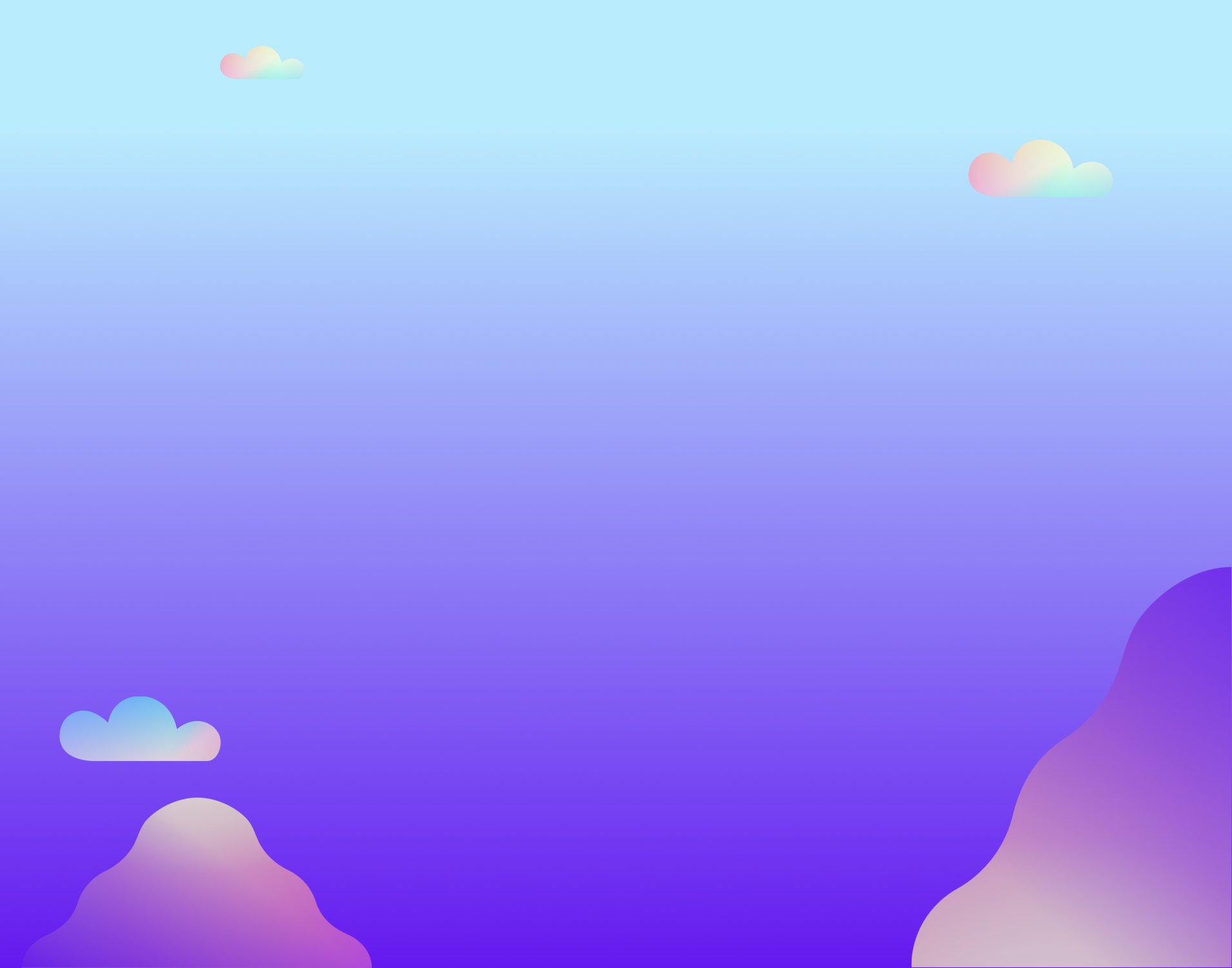 Put us to the taste-test, and power your day with a new kind of bar. Nothing beats a bowl of sugary cereal. Does it have 12-14g of protein per serving? Probably not. But is it delicious? Absolutely.
We craved a cereal that could both fuel us for the day–and taste just like our childhood favorites. We turned up nothing. Why couldn't we have our cereal… and eat it, too?
That's why we experimented for over a year to recreate these nostalgic flavors, now upgraded for the 21st-century cereal lover. Meet Magic Spoon. Tastes just like you remember with more protein, zero sugar, and no artificial ingredients.*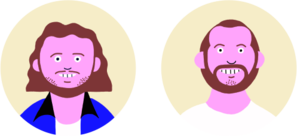 Greg + Gabi,
Co-Founders of Magic Spoon
We've reinvented your favorite childhood cereals with zero sugar, 12-14g of protein, and 4-5g of net carbs per serving.* This is the ultimate cereal that tastes too good to be true.
FIND YOUR FLAVOR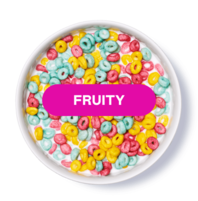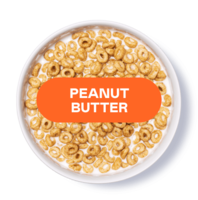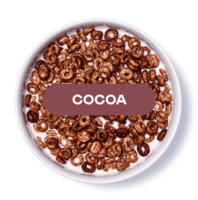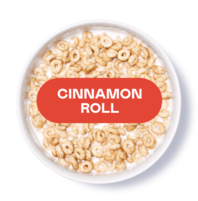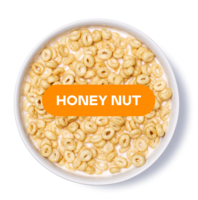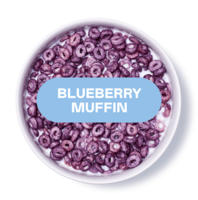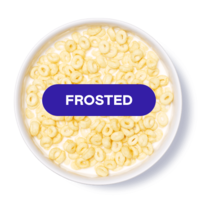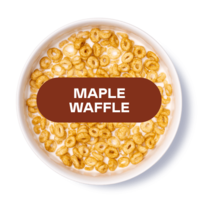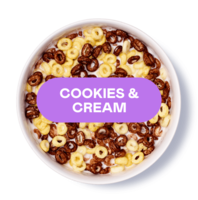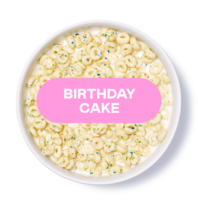 *Honey Nut contains 1g of sugar per serving.
*Magic Spoon is not a low-calorie food. Our ingredient allulose adds a trivial amount of sugar.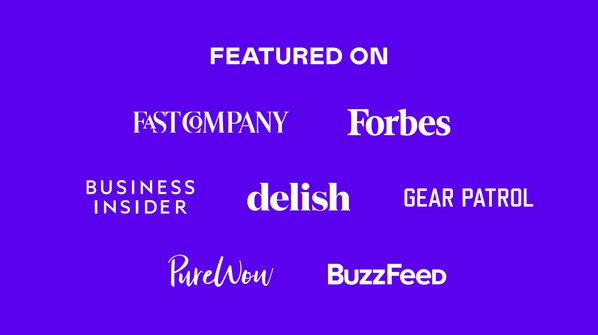 "Magic Spoon is an adult version of what you loved as a kid."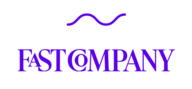 "Magic Spoon may be the future of breakfast."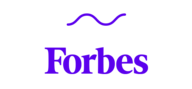 "Magic Spoon has become my new go-to for one simple reason: it's delicious."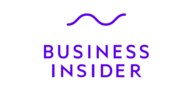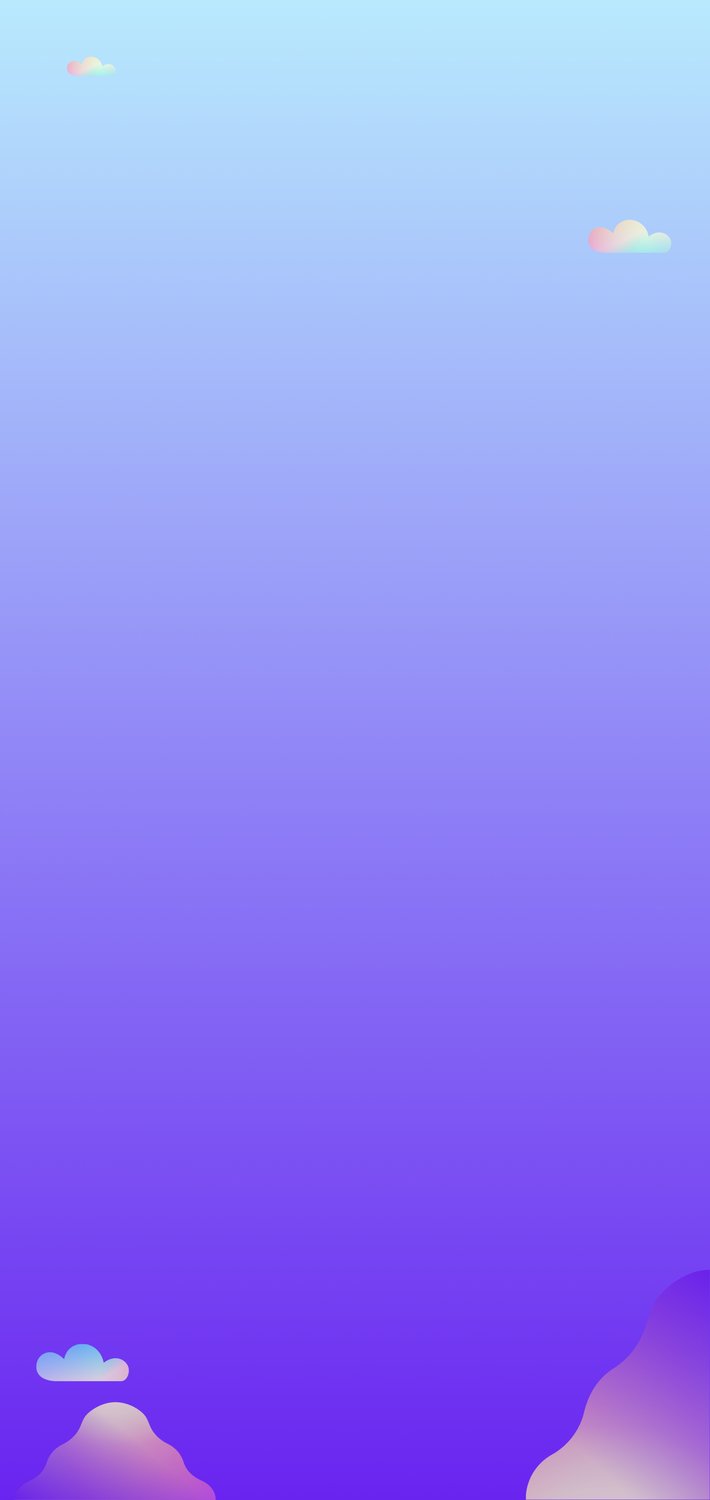 But what's really
in the magic…
Okay, we'll spill the milk. The secret recipe?
It's all in our unique mix of natural ingredients.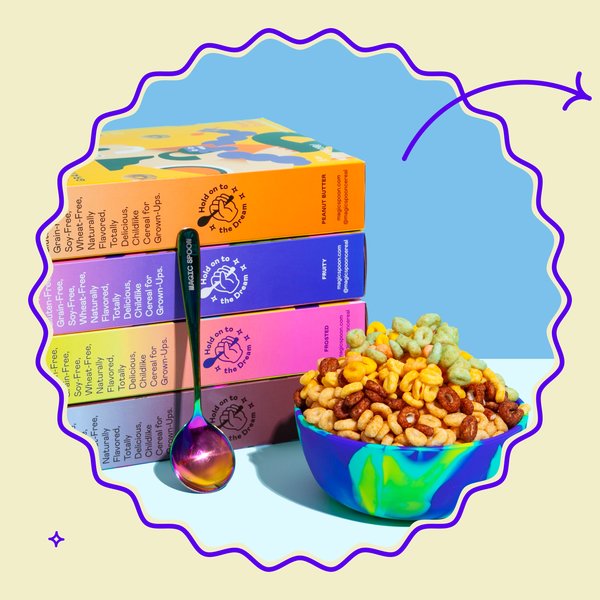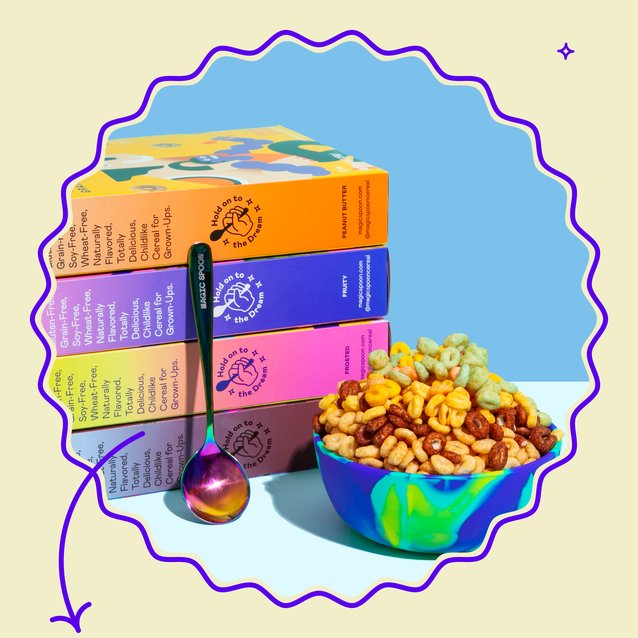 With 12-14g of protein per serving, a bowl of Magic Spoon helps you power through the day with less cravings and more energy.
Want to cut back on added sugars? What about empty carbs? Just pour a bowl of your favorite flavors to fuel you up. Perfect for the keto diet.
*Honey Nut flavor contains 1g sugar.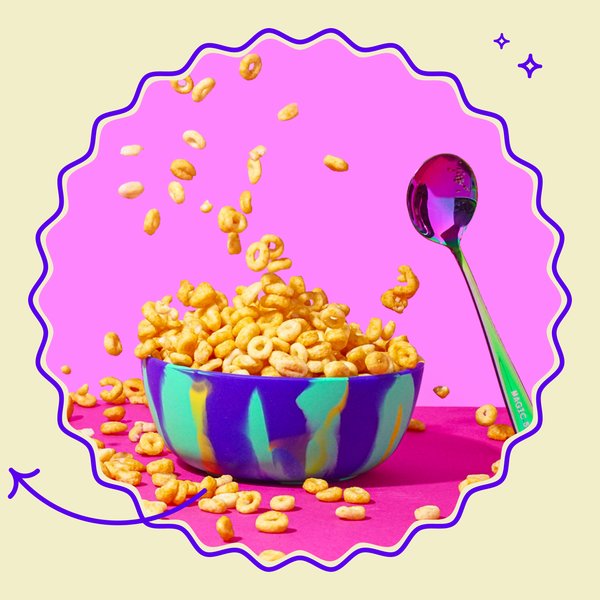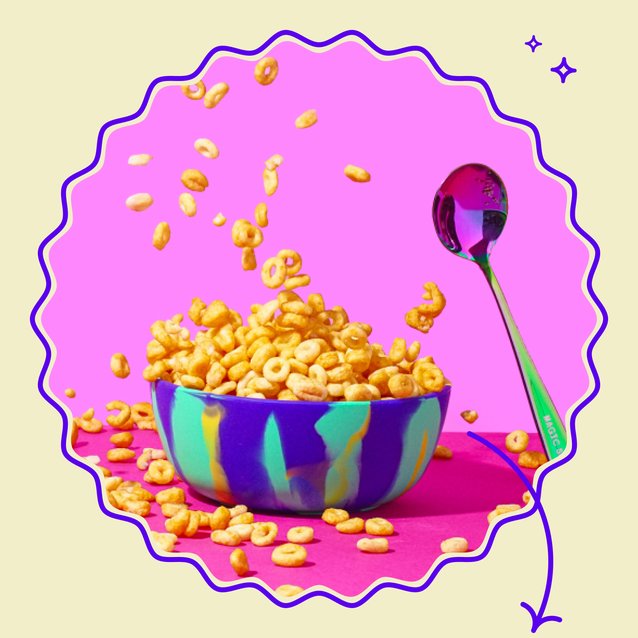 Magically tasty
(without the fake stuff!)
Our formula is unbelievably delicious – and made with no grains, no gluten, and no artificial flavors or sweeteners.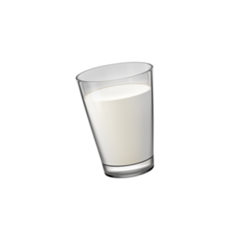 Whey protein concentrate and casein contain all 9 essential amino acids.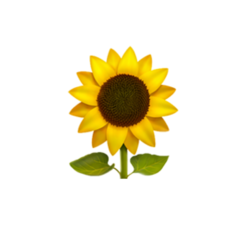 Our high-oleic mix of sunflower oil and avocado oil is high in monounsaturated fats. These heart-healthy fats are also found in extra virgin olive oil.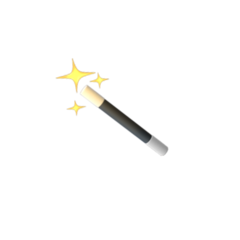 A natural "sugar" that tastes just like the one you're used to, but has almost no glycemic impact and almost zero calories (less than 0.4 cal/g).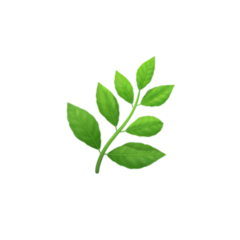 A fruit native to Southeast Asia that was first cultivated by Buddhist monks in the 13th century and traditionally used in herbal medicine.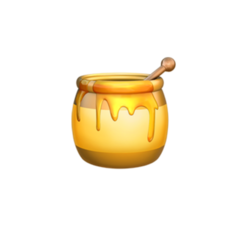 No artificial flavors, colors, or preservatives. Just ingredients that we're proud of – and of course, taste delicious.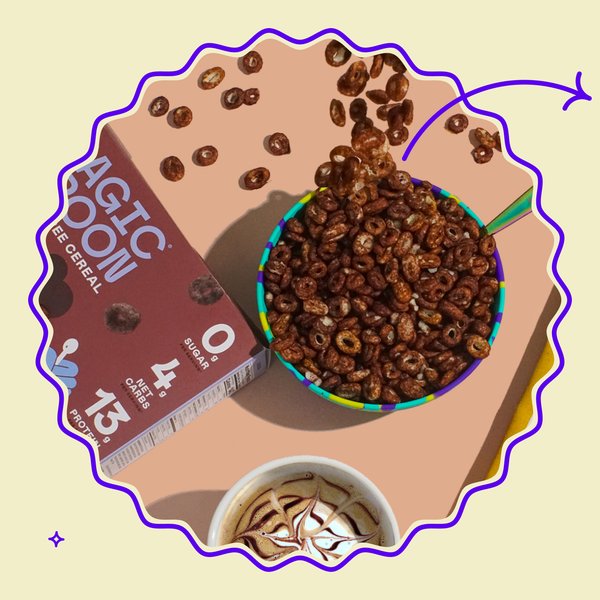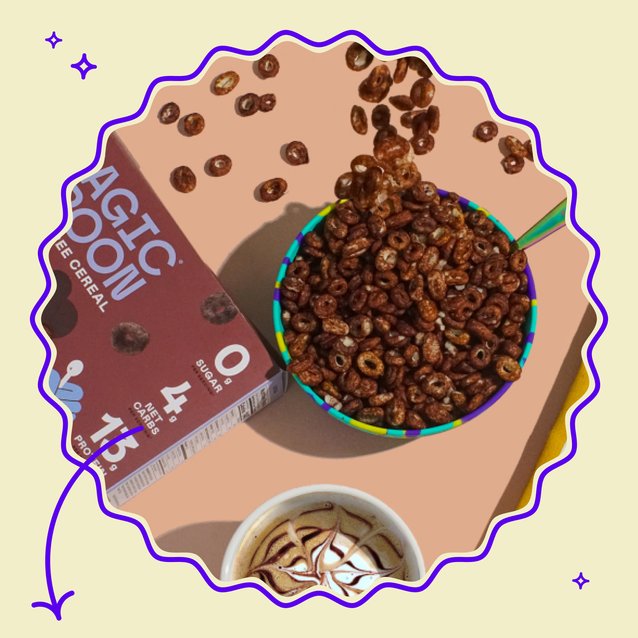 That's right. No corn or wheat around here. We think everyone should be able to love cereal, no matter what.
Keep your gut happy with our chicory root inulin, a prebiotic fiber that helps aid in digestion and fuller nutrition.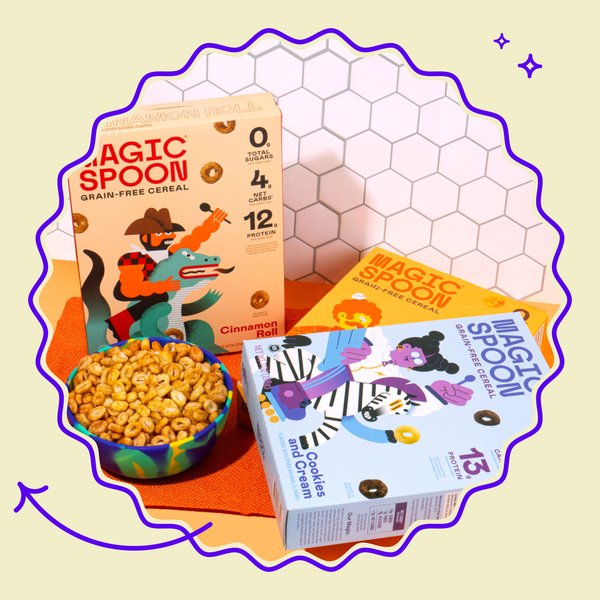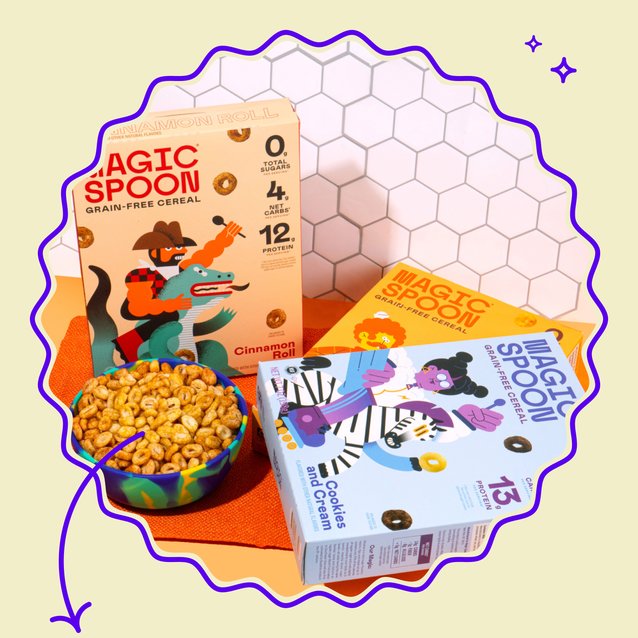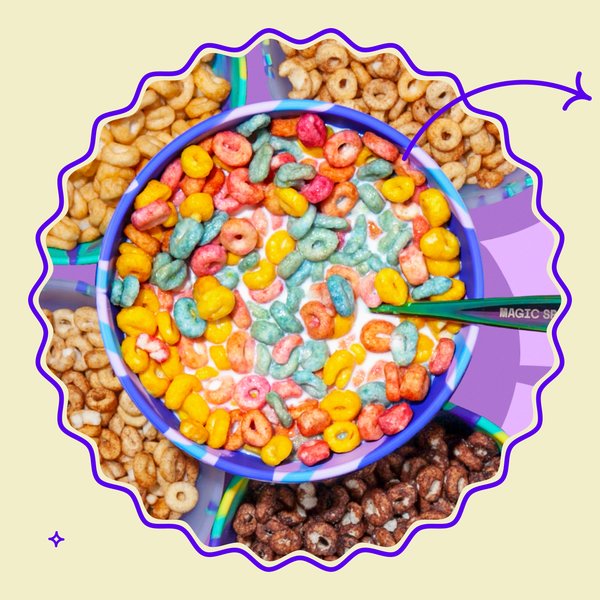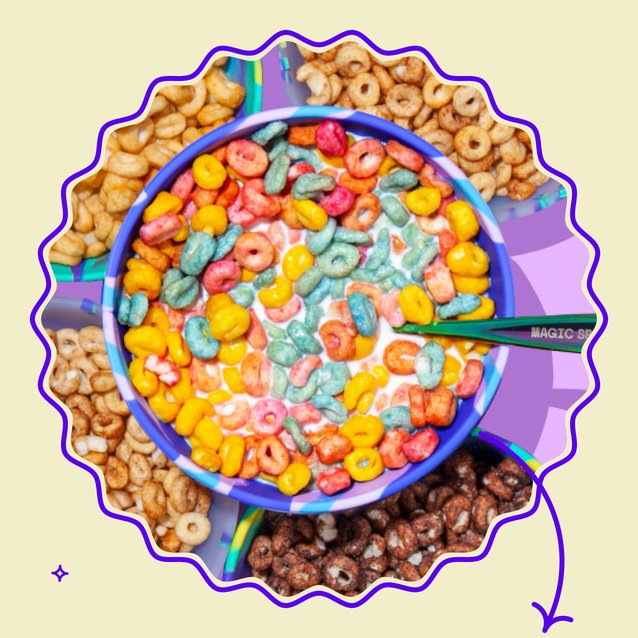 We're talking about the real stuff: cocoa powder (sourced from actual cocoa beans), fresh vegetable juices, ground turmeric, peanut butter from peanuts, and you get the point, right?
Real customers. Real reviews.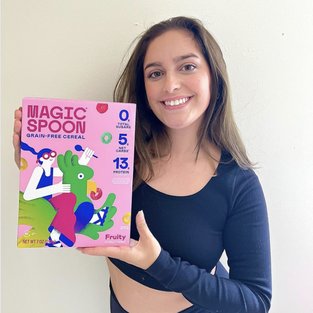 "Literally blown away with how great these cereals tasted! Packed with 13-14g of protein per bowl, 4g of net carbs, and ZEROg of sugar"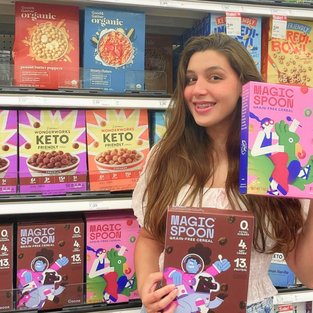 "This tasty cereal is the perfect way to start your day and fuel your body. It's packed with protein and tastes delicious, so you can get up and go"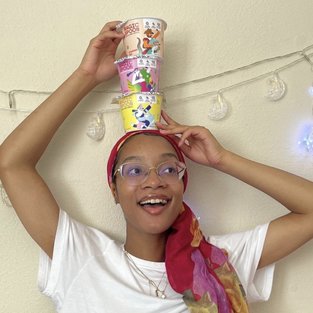 "Cereal for dessert to treat my inner child? Yes please! 😄"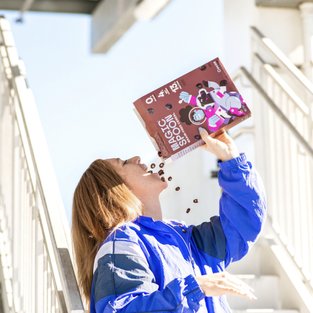 "Not only is each flavor insanely good AND you're consuming a good amount of protein per serving but the ingredients are what I'm the most impressed about.."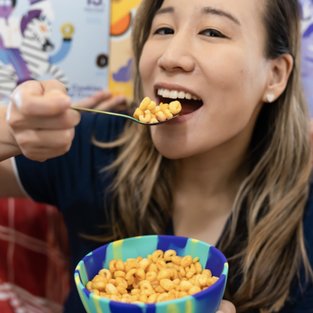 "The ingredient list is impressive, and the taste is fantastic. I can now have a bowl of my favorite cereal, and know that I'm actually getting the nutrition my body needs!"
Limited-edition
variety packs
Variety
4-Pack Cereal

Try our classic Variety pack!
TRY NOW
1X FRUITY
1X PEANUT BUTTER
1X FROSTED
1X COCOA
Ultimate
Fall Set

Try our 4 best-selling flavors and 2 limited edition fall flavors!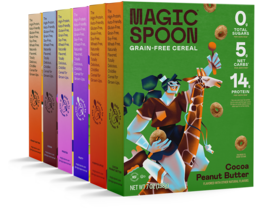 TRY NOW
1X FRUITY
1X COCOA
1X FROSTED
1X PEANUT BUTTER
1X PUMPKIN SPICE
1X COCOA PEANUT BUTTER

Super Spooner
Starter Pack

Try our limited-edition bundle!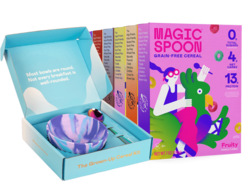 TRY NOW
1X FRUITY
1X PEANUT BUTTER
1X FROSTED
1X COCOA
1X CINNAMON ROLL
1X BLUEBERRY MUFFIN
1X BOWL AND SPOON SET
Happiness 100% Guaranteed*
If you're not completely in love with your cereal, we'll refund your first case in full.
TRY NOW
*See terms of use at magicspoon.com